Six Weeks or Less to Build an App!
Do you want to learn how to create apps that run on iPhone and iPad, as well as on Android, Blackberry, and Windows Phone? Sure you do! Do you want to learn five different programming languages? Of course you don't!
No credit card or sign-up required! Just click the above link and then click View Demo!
Not sure that our course is right for you? Email us with any questions that you have, or keep reading!
Over 5,000 people have taken our course, Creating Mobile Apps with HTML. Here's what one of them had to say about the experience:
"This course is my starting point for my career. Thanks ed2go for creating such an organized course and Chris for making the course very interactive and effective. At the end of the course I felt that I can develop an app. I am eagerly looking forward to enrolling in a new course soon!"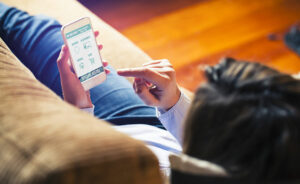 A mobile app built for one mobile operating system (Android, for example) won't work on a different mobile operating system (Apple iOS, for example). This is the problem that the staff of WatzThis faces as they prepare to develop their mobile app. They have the vision, marketing, and sales staff — and an unpredictable CEO (but more on that later). What they lack is the money and time to create and maintain five different apps. The world and potential investors are waiting, and WatzThis needs to deliver results in six weeks or less!
In the following series of videos, instructor and course creator Chris Minnick talks about the differences between Native, Hybrid, and Web apps and the benefits of each."
Learn to Use HTML5
You can build mobile apps using the standard Web development skills that you may already have! In the same way that websites such as Google Maps and Facebook can be made to work on every web browser, HTML5 mobile apps also work on any smartphone.
You're Hired!
Congratulations! You're about to join the team at WatzThis and discover a better way to build apps!
As the lead app developer at WatzThis, you'll help them through the process of imagining, designing, building, and optimizing a cross-platform mobile app using the very latest HTML5 standards. The result will be a mobile app that's fast and runs on just about any smartphone or tablet computer.
What You'll Learn
In addition to getting a taste of the fun and excitement of being involved with a fast-paced Internet startup, you'll also learn some of the most sought-after skills in web and mobile development, including:
Learn HTML5 and how it is different from the previous versions of HTML with which you may be familiar.
CSS3, the layout and styling language of the mobile Web.
Learn JavaScript and several JavaScript frameworks and techniques such as jQuery, jQuery Mobile, AJAX.
Learn how to use web services such as Google Maps in your app.
Learn to use HTML5 geolocation to determine where on earth the app's user is by asking their smartphone's built-in capabilities.
Learn how to combine different web services to create mobile mashups.
Learn how to optimize your app for performance in order to make sure that it runs as fast as possible for your users.
Learn how to convert your HTML5 apps into native apps that you can submit to app stores such as Apple's App Store and Google Play.
By the end of the course, you'll have built your first mobile web app, and you'll be on your way to making your dream of being a successful mobile app developer a reality!
What is HTML5?
Watch this HTML5 tutorial video of Chris Minnick explaining why you should learn HTML5. In the video, Chris gives the audience an introduction to his HTML5 app training, explains "What is HTML5?", and talks about the future of mobile web development and mobile app development with HTML5.
What People Say
Here are a few of the things our students have said about the class!
Chris Minnick is an excellent Instructor, knowledgeable, experienced, good sense of humor, material very well written and presented, content well selected. A great experience for me.
Real interesting course. Instructor really knows what he is teaching and gets it across effectively. I would be interested in more advance areas of writing apps.
I felt like the instructor made it exciting for us to want to build our own apps right now. It was totally worth my time.
One of the most interesting and well done courses I have ever taken. Very well done. Just the right amount of knowledge in chunks with interesting activities and a very knowledgeable instructor.
I enjoyed the writing style set in a semi-real world example.
Excellent course and superior instructor. I gained a conceptual understanding of all pieces of mobile web development, and got hands-on detail of each in the assignments.
Very worthwhile class; I love the instructor's sense of humor.
When I started the course, I was surprised that we were being taught CSS, HTML5, etc., but I was thrilled. And Chris used everything in his sample app creation, which is exactly what I'll need to do when I create my (killer) app! An excellent course, and an excellent instructor!
Mr. Minnick gave personalized answers to all my questions, and sometimes the general answer was very helpful in understanding the specifics about code, etc. Mr. Minnick is great.!!
Requirements:
All additional software needed for this course is freely available on the Internet and the process for downloading and installing it will be covered during the lessons; One of the following operating systems is required: Windows XP or later, Mac OS X 10.5 (Leopard) or later.
While you can use a smartphone or tablet for testing your apps, a desktop or laptop computer is required in order to create them. HTML and/or programming experience will be helpful, but is not required.
Take the first lesson for free! No credit card or sign-up required!