WatzThis? is continuously working on creating new educational products and revising our existing ones. All of our currently available products are listed below. Click on the titles to read more and to purchase them and subscribe to our newsletter to be notified about new products we're working on!
---
by Chris Minnick
This course will teach you how to build offline-first mobile apps using HTML5, offline storage, and service workers. (May 2017)
Find out more!
---
by Chris Minnick and Eva Holland
Learn to code the "fun" way with nine real projects for true beginners.
"Adventures in Coding" is written specifically for young people who want to learn how to code, but don't know where to begin. No experience? No problem! This book starts from the very beginning to take you from newbie to app-builder in no time. You'll 'learn by doing' as you build projects designed to help you master fundamental programming skills–and you'll have a great time doing it. These skills form the foundation of any programmer's tool set, and you'll continue to use them as you graduate to other devices and more difficult projects. Each chapter includes a video to help clear up any confusion and make sure you "really" understand, so you can keep programming your way through every single project without hitting major roadblocks. If you're ready to start designing your own program, this book will help you get started today. (April 2016)
---
by Chris Minnick and Eva Holland
Coding with JavaScript For Dummies provides easy, hands-on instruction for anyone looking to learn this popular client-side language. No experience? No problem! This friendly guide starts from the very beginning and walks you through the basics, then shows you how to apply what you've learned to real projects. You'll start building right away, including web page elements and simple applications, so you can immediately see how JavaScript is used in the real world. Online exercises allow you to test your code and expand your skills, and the easy-to-follow instruction provides step-by-step guidance toward understanding the JavaScript syntax, applications, and language. (May 2015)
---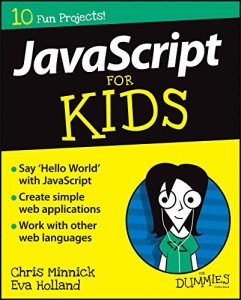 by Chris Minnick and Eva Holland
Kids who dream of creating the next Facebook or Twitter or Pandora need to know JavaScript to start making their dream a reality. The problem is not every school offers coding education to younger students and code camps can be expensive and remote. JavaScript For Kids For Dummies helps teach the basics of coding and JavaScript to kids who are interested in getting started with JavaScript but either don't have the opportunity to take coding classes at school or in camp. It's also ideal for those kids who simply prefer to learn on their own. Broken down into smaller, goal-oriented projects, JavaScript For Kids For Dummies introduces core coding concepts as it walks the student through steps for creating interactive applications. The book is ideal for early-to-pre-teen learners interested in expanding their technology skills as well as younger readers eager to learn via step-by-step instruction. (August 2015)
---
An Introduction to HTML5, jQuery Mobile, and Web Frameworks
by Chris Minnick and Eva Holland
In this Beginners Guide to Building Mobile Web Apps, expert authors Chris Minnick and Eva Holland will teach you how to create mobile web apps that will be able to run on multiple mobile device operating systems. This course is designed for the absolute beginner, meaning no web development experience is required.
You will start by learning about the three types of mobile apps, then jump into learning how to design an app. Throughout the course, you will be working on designing, developing, and deploying a mobile ToDo list app. Minnick and Holland will teach you how to prototype the ToDo app, then show you how to set up your development environment. This video tutorial will also cover HTML5, how to style with CSS3, how to use JavaScript and jQuery, and how to create an app with jQuery Mobile. Finally, you will learn about mobile optimization techniques, as well as how to deploy your app and upload it to the web.
Once you have completed this computer based training course, you will be fully capable of creating your own mobile web app. Working files are included, allowing you to follow along with the authors throughout the lessons.
---
by Ed Tittel and Chris Minnick
Your full-color, friendly guide to getting started with HTML5 and CSS3! HTML and CSS are essential tools for creating dynamic websites and help make your websites even more effective and unique. This friendly-but-straightforward guide gets you started with the basics of the latest versions of HTML and CSS: HTML5 and CSS3. Introducing you to the syntax and structure of the languages, this helpful guide shows you how to create and view a web page, explains ideal usage of HTML5 and CSS3, walks you through the CSS3 rules and style sheets, addresses common mistakes and explains how to fix them, and explores interesting HTML5 tools. Serves as an ideal introduction to HTML5 and CSS3 for beginners new to these languages Details the capabilities and fundamentals of HTML5 and CSS3 Helps you understand how HTML5 and CSS3 are the foundation upon which hundreds of millions of web pages are built Features full-color illustrations to enhance your learning process Beginning HTML5 and CSS3 For Dummies is the perfect first step for getting started with the basics of these languages essential to building a website. (September 2013)
---
by Chris Minnick
Get up to speed on the engine that powers Safari and Google Chrome.
What do the web browsers on iPhone, iPad, Android, Blackberry, Kindle, and Nokia have in common with Google Chrome and Apple Safari? WebKit powers them all.
This guide shows you how to create web sites and mobile web apps using WebKit. Learn to use all the developer tools, the latest web standards, and WebKit's unique styles and functions to create appealing, interactive sites for mobile and desktop display.
Explores how WebKit supports HTML5 and CSS3, providing a large toolkit for creating faster and better mobile web sites
Explains how to create web pages for both mobile and desktop display using WebKit
Covers acquiring and installing the developer tools, building web pages, debugging and deploying them, and taking advantage of WebKit functions to create faster, more appealing, and more interactive sites
With mobile devices proliferating at a rapid rate, there's never been a better time to learn all about the engine that powers the leading mobile browser. WebKit For Dummies teaches you to create web pages that make the most of everything WebKit has to offer. (Feb 2012)