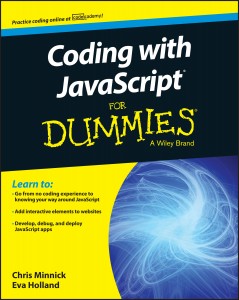 This is a big week in the history of WatzThis?. Our company has just turned 6 months old, and we're officially releasing our first book into the world.
This book was challenging and fun to write. We've packed it with the most current information and techniques that beginning and intermediate JavaScript programmers need to learn and remember, while reinforcing it with jokes and enough silliness to keep you entertained. Even people who don't care to learn JavaScript might enjoy it!
The book is available starting right now; anywhere that technical books are sold. We're really excited, but, we need your help!
We've worked so hard to create this book, and we believe it in it completely. Now, it just needs a push from our community, followers, students, readers, and friends. The next few days are critical. We're impressed that we've already made it to the top 25 new JavaScript books, and with your help, we can be #1!
How can you help?
If you've been waiting to buy the book, now is the very best time to do that!
If you already have the book, please stop by Amazon and give it a review!
If you aren't interested in buying the book, you can still support us by talking about us! Tweet or post to Facebook! We will be very grateful. Make up your own tweet, or use ours! Here are some easy "click to tweet" links for you…just click the link to open Twitter, where you can edit our pre-written tweet before sending:
Tweet: I support my writer friends. Check out the latest book from Chris Minnick and Eva Holland @WatzThisCo http://ctt.ec/QTeec+
Tweet: Coding with JavaScript for Dummies, by Chris Minnick and Eva Holland is in stores now!
Tweet: Want to learn JavaScript? Check out Coding with JavaScript For Dummies, by Chris Minnick and Eva Holland, in stores now! http://ctt.ec/ehaNd+
Tweet: JavaScript programmers earn an average salary of $96,000. Learn now with Coding with JavaScript For Dummies http://ctt.ec/8r0Id+
Tweet: JavaScript programmers do it with Coding with JavaScript For Dummies http://ctt.ec/0uVcF+
Thank you all for your continued support and enthusiasm and as always, thank you for reading.
Help us make our new book #1!